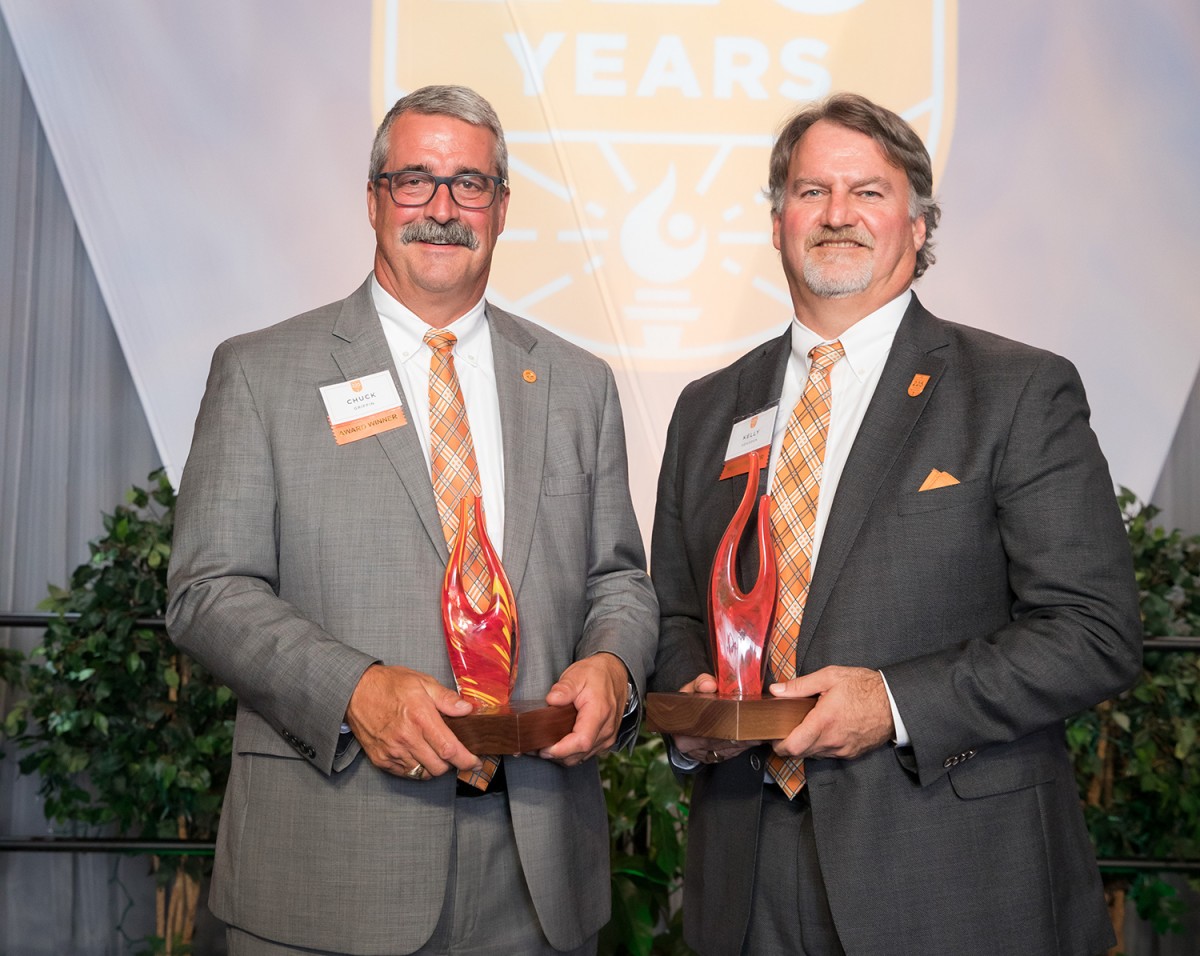 Chuck Griffin, AIA, NCARB, and Kelly Headden, AIA, NCARB, are two of the University of Tennessee Knoxville's 2019 Alumni Service Award winners.
Griffin is BarberMcMurry Architects' President and CEO, and Headden is the firm's Executive Vice President and COO. Griffin and Headden were recognized for their personal and professional service to the University.
Both oversee the BarberMcMurry Professorship at the College of Architecture and Design, the largest endowment at the College at $1 million — a fund which brings internationally recognized architects to teach at UT for a full semester.
Griffin graduated from UT's College of Architecture + Design with honors in 1984, the same year he began a full-time career at BarberMcMurry. He has been a partner-in-charge at the firm for 24 years, specializing in healthcare and higher education design. He has overseen more than $835 million in healthcare construction — including dozens of projects at the University of Tennessee Medical Center, East Tennessee Children's Hospital, and Covenant Health. He has also overseen dozens of higher education projects for Tennessee Board of Regents universities, community colleges and TCATs.
He is also a graduate of Leadership Knoxville and serves as chair of the Pellissippi State Community College Foundation Board and the Cokesbury United Methodist Church Board of Trustees.
Headden is a 1988 honors graduate and Chancellor's Citation recipient of the College of Architecture and Design. In his 30-plus years at BarberMcMurry, he has guided some of the firm's largest and most complex projects, among them, the firm's design work at the University of Tennessee — including the award-winning Natalie L. Haslam Music Center, Joint Institute for Advanced Materials and new Student Union. Other recent projects include the Cathedral of the Most Sacred Heart of Jesus, Rocky Top Sports World and sports facilities at Maryville College.
He is a longtime supporter of UT, serving as a Big Orange Give ambassador, a UT Chancellor's Associate and a member of the College of Architecture + Design's Advisory Board and Dean's Advocacy Board. He is a graduate of Leadership Knoxville and Leadership Sevier, and serves on the board of directors for AIA Tennessee and SmartBank Knoxville, as well as serving on the Helen Ross McNabb Center Events Committee and the Knoxville Open Championship Committee.