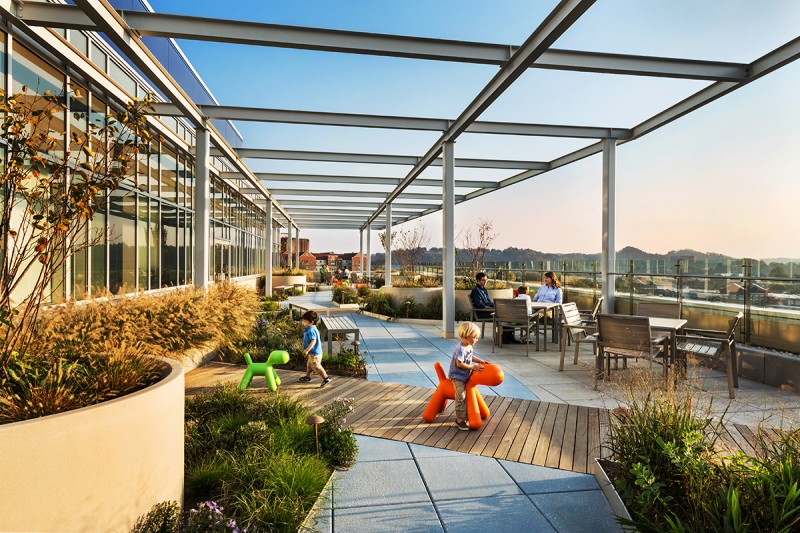 BarberMcMurry Architects has won three AIA East Tennessee awards. Of 40 submissions from architecture firms throughout East Tennessee, only 12 earned recognition. The awards were judged by professional jurors from out of state.

The East Tennessee Children's Hospital Scripps Tower addition, which houses NICU and surgery wings, won a Merit Award. The City of Knoxville Public Works building and the Gastrointestinal Associates medical office building each won Citation awards.
The East Tennessee Children's Hospital addition accommodates a surgery floor with 14 operating rooms, patient prep and recovery spaces, 44 private NICU patient rooms and support areas — including a roof garden for families.
Judges said of the design, "Urban exterior expression reveals an animated, playful interior … true attention [is] given to the needs of children and families."
The City of Knoxville's Public Works Complex offers more room for expanding City services while emphasizing Knoxville's commitment to sustainability through energy efficiency, natural lighting, a rooftop garden and even geothermal heating and cooling.
Judges said, "Wonderful to see such attention to a building that typically does not get much love. All government and municipal office buildings should aspire to this kind of clarity and design quality."
The Gastrointestinal Associates building's energy efficient design also emphasizes positive patient experience through the use of large windows overlooking a garden and unique design elements, like patterned brick, that personalize the design.
Judges said the design has a "unique, textural composition with spa-like interiors. The designers have taken what is often a standard building type and elevated it through thoughtful material and formal compositions."